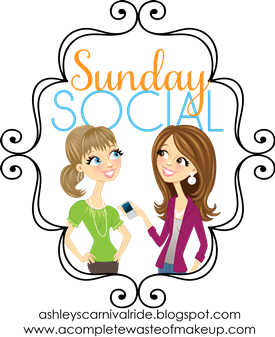 Well, I'm a day late on this
Sunday Social
. We spent the weekend in Harrison and loved every minute of it!
I still thought this would be a fun, and challenging thing to fill out about myself.
I'm going in this full dork mode, I won't give you any answers to make you think I'm cool, because I'm really, really not.
My husband says my music taste is awful... but since this pregnancy has been "full force" Truman and I listen to a lot of mommy's nostalgic music and really that's what my favorites are.
What is your all-time favorite song?
I'm going to have to say, Power of Love by Celine Dion. Anything Celine reminds me of my grandma, she was a huge fan!
Plus Celine Dion is the greatest singer in the world, just ask her!
What is your favorite singer/band?
I really, really think that my favorite singer/band is Iron & Wine. They're constantly my go-to chill out music, I'm hoping Truman likes them too because they're going to be playing a lot in his room.
What is your theme song/song that best describes your life?
Alright I actually had to answer this last because I couldn't think of anything... Man in the Mirror, Michael Jackson.
"If you wanna make the world a better place, take a look at yourself and make a change."
What songs put you in a good mood?
Forget you by Cee Lo Green is a favorite of mine. I never heard it until our wedding reception and I loved watching people sing and dance to it. Every time I hear this song it takes me back to that day!
What is your favorite roadtrip music?
Because my favorite person to road trip with is James, we listen to what James wants to listen to. Which is usually Keller Williams, OCMS, and a little bit of Led Zeppelin. James is a HUGE Zeppelin (&the doors) fan. He knows the words to all the songs that come up and everything. Every time I hear Zeppelin I can't help but think of his entirely too tight pants that he wore in concerts :-X Leave something to the imagination man!
What song are you embarrassed to admit you love?
Let's see, I guess it'd have to be my love for some old-school rap. I really enjoy putting this on when I'm about three sheets to the wind... It's not the music that's embarrassing, it's the extremely white girl singing every word to it like a total dipstick.